Welcome to Adopt Me Rescue
We are a foster based small dog rescue here in Los Angeles California. We are a dedicated group of people rescuing the sick, old seniors, injured, overlooked and forgotten dogs due to their medical conditions or red listed dogs from the shelter that are going to be euthanized. Adopt Me Rescue often rescues
"special needs"
dogs from shelters. Adopt Me Rescue is a 501(c)3 non-profit organization. We are a completely volunteer organization and we can't do it without you.
Please consider
adopting
,
fostering
,
volunteering
,
donating
,
attending a special event
, or
shopping with our affiliate links
to help us.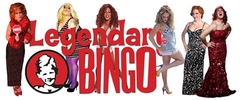 September 3rd - Hamburger Mary's
At the end of the summer we will be doing Legendary Bingo at Hamburger Mary's in WeHo on
September 3rd
. We have the 8p show (doors open at 7P). There is no flyer yet, but the facebook event is already up.
Here is a link to the facebook event posting so you can invite your friends: